once apprenticed as an artist blacksmith, I still hand forge each piece of custom jewelry myself with hammer, anvil & fire.
I work in platinum, gold, silver and steel, semi-precious stones of all kinds and planet-friendly diamonds, too.
my custom jewelry work includes rings, bracelets and pendants, with an emphasis on one of a kind engagement & wedding rings, recycled stones and metals from old jewelry give new life again, and a highly personalized custom jewelry creation I call the life chain.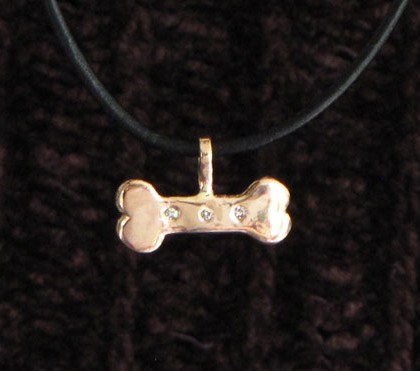 a gift conceived and collaborated by an adoring aunt (and owner of some of the prettiest jewellery i have ever made) for her beautiful niece.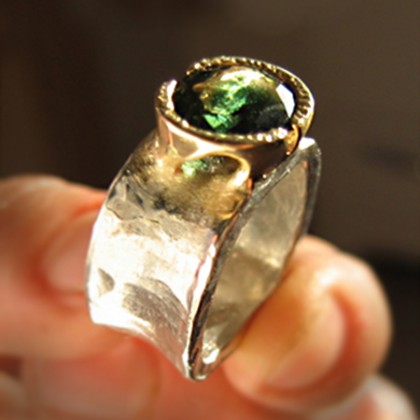 this platinum ring features a green tourmaline, set in melted 18k gold.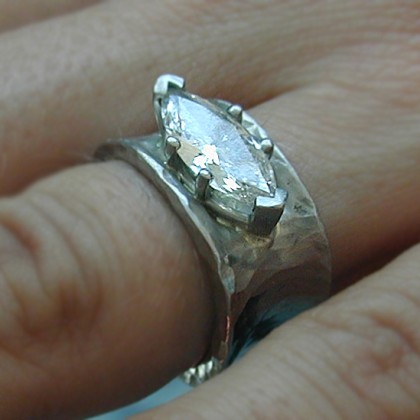 ever so unique and large marquis diamond set in a hand forged platinum ring with a rough polish and organic texture.
in 2011, I launched a line of affordable ready-to-wear trinkets, which make perfect gifts for all occasions that are still individually hand worked and are available for purchase & fast shipping through my online shop.
have questions? click here to email me, because no matter what it is, I work personally with you to create a one of a kind jewelry design experience to last a lifetime.
looking for a particular piece of my work? type it into the search box at the top right and click the icon, its the fastest way to find it!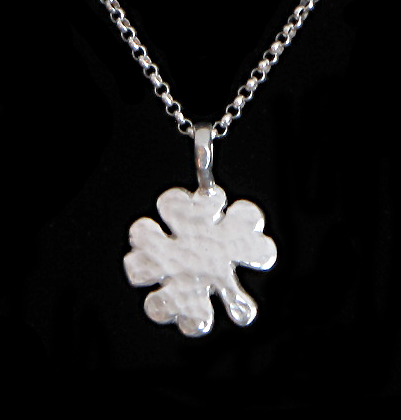 according to legend, each leaf of the clover represents something: the first is for faith, the second is for hope, the third is for love, and the fourth is for luck.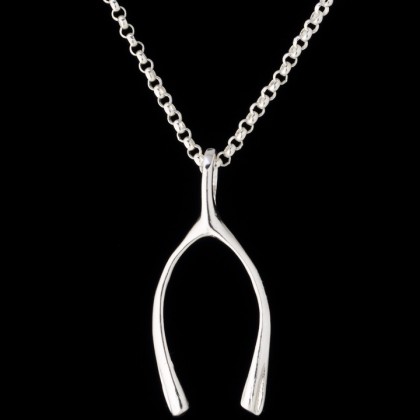 in response to many requests for a smaller wishbone necklace, I introduced this piece at the end of 2011.