chunky forged sterling silver bracelets
the gold market is really a bit of a drag these days… especially for a girl who likes to forge heavy.
so i am going to tell you about silver for the holidays.
for my reason why, lets turn to today's metals market with current precious metal prices:
Gold: 1339.00 ↑ Platinum: 1673.00 ↓ Silver: 23.71 ↓ (the little arrow indicates up or down from yesterday).
all you need to know here, is that gold is pricing seriously high, and silver is so affordable.
so my solution for all of you who want to impress with a custom piece of jewellery for the holidays?
go silver and go chunky.
been forging some of my old classics and reinventing the styles by milling out a bit more silver than before, being a bit bolder and weightier.
here is are a couple of photos of recent forged sterling bangles, with and without stones.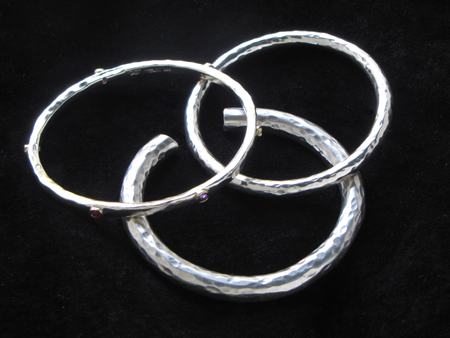 so for the holidays, i see silver chunky bangles, bracelets and cuffs.
a custom forged bracelet for someone special, designed in an easy, affordable, yet totally custom way.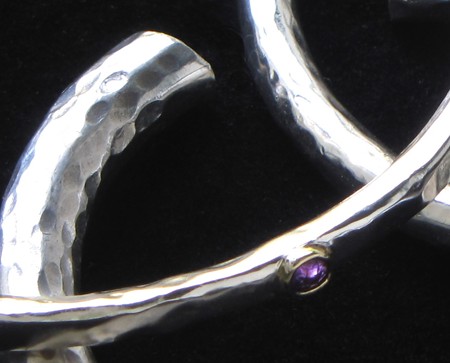 i am working out a way to make "custom" affordable and accessible to the most people i can this holiday, especially my fans and subscribers.
look for my next post, when i will share with you all the details of my "design your own" online holiday trunk show, where you can easily design custom bracelets for holiday gifts
so get your designing caps on and get thinking about a special holiday gift for those on your list. mom's, dad's (yes, i do bracelets for men!), daughters and of course, yourself!
the sooner i get forging, the easier your holiday shopping becomes~