difference between cast and hand forged/handmade jewelry
so what exactly is the difference between a piece of jewellery that has been cast versus a piece that has been hand forged? admittedly, i don't hear this question as often as i would imagine, but when i do, i really love to answer. so since it was just asked… i am going to take the opportunity to answer!
cast items are more porous and less durable. hand forged items are just that, forged by hand with a hammer and (in my case) over an anvil. the metal is condensed due to the hammering, therefore the end result is a heavier piece, denser and more durable.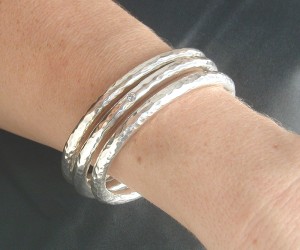 i design my bangles to fit as snuggly as possible, to reduce the "banging" effect that results from a bangle that is a bit too large. this way you can wear your bangle 24/7, never having to take it off. (just like the beautiful jade bangles worn in many asian cultures).
and if your bracelet is hand forged it will age so well, literally becoming shinier, harder and more gorgeous as time goes by! bangles make great gifts too and are easy to size. in fact, i have just added the option to order bangles in small/medium or medium/large, so you never have to worry if it will fit again.
the holidays are upon us people, do not delay!