gold trinkets for my fans at the holidays
when I think of you – my friends, fans and subscribers – at the holidays, I always want to do something you'll really appreciate, and if possible, something you've been asking for— this year, the overwhelming request been gold trinkets at a price you can afford.
so while I haven't solved the crazy gold market, I have found a way to get gold trinkets (and they are gorgeous, check out his picture) into your hands this holiday season, for gifts or for yourself, gold for about the same price as sterling silver, and whats more, a holiday discount on both! read on to find out how.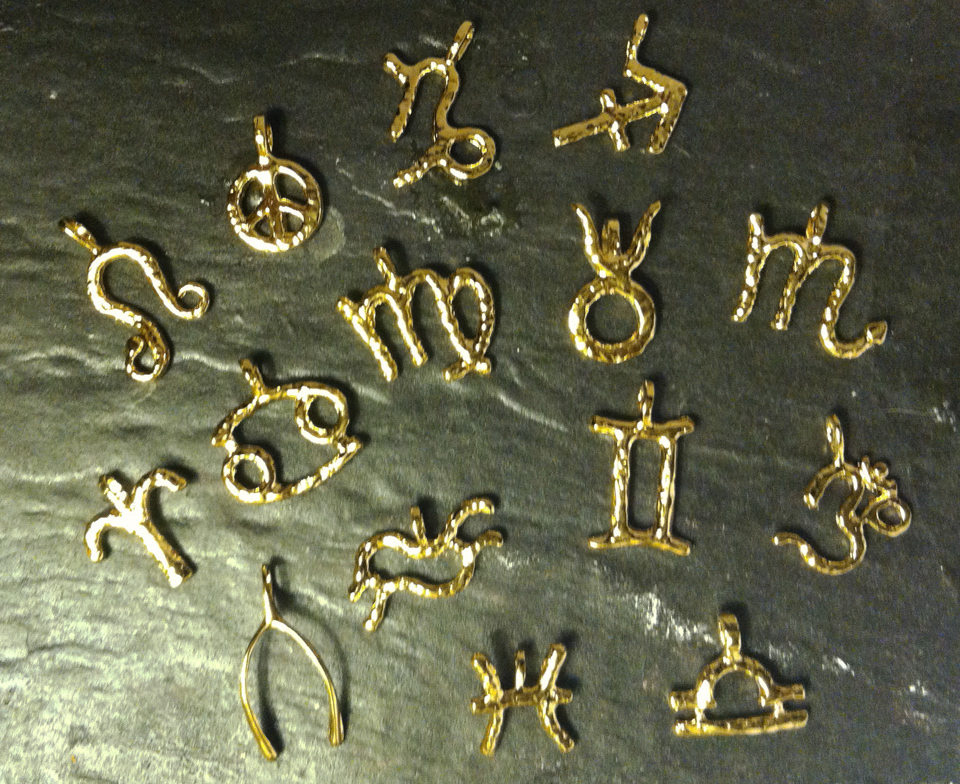 here's the story:
leave it to one of my custom clients to come up with a solution to the "gold market fiasco", as I've been calling it. a couple of months ago a client came to me with her very sentimental angel medallion in sterling silver. she wanted to have a replica made in yellow gold. it priced out a mere 3k. that's right, a solid gold replica would be $3000, and that itself was heavily discounted from the "suggested" or traditional jeweler's mark-up.
ummm, no.
the client actually suggested the solution: how about plating the silver medallion in gold?
well I have always shied away from gold plating. there is so much stuff out there done with sub-standard plating. full of nickel, too thin, lousy color etc. you've seen it: the color doesn't look quite right and within months, you are left with some base metal (of indiscernable nature) "shining" through.
not cool and not worth it.
the universe however, is kind to me. after a few calls to some of my mentors in the biz, I found myself chatting away with a chemist, a woman who has been plating for over 55 years. she plates in 22k yellow gold and will match any gold color desired. the medallion was sent off and returned with the most gorgeous 22k gold vermeil. in the rich color of 18k "european" gold. absolutely stunning.
well, this got me thinking: expert gold plating on sterling would last longer than on base metal. the trinkets are not heavy wear items like rings or watches. her services are quite affordable compared to my costs to fabricate or cast in solid gold. so……
so I sent off a package of solid sterling silver trinkets. peace signs, little wishbones, ohm symbols and zodiac signs… and they too have returned with a gorgeous 22k gold vermeil, again in the color of 18k yellow gold, that you see in the pic above.
I LOVE them, and I'm particular. they are so rich, so warm and so pretty, and sooo affordable as my holiday special offer to my subscribers, fans and friends–
so here's the deal
because they are experimental, I only have a few of each trinket in gold: peace signs, ohm pendants, wishbones and all 12 zodiac signs. I'm not sure if they will be part of the line yet, but John is going to make new items in the online store for them anyway, and we will send out a private link to them to my email subscribers only on Thanksgiving morning, along with a discount good for 40% off all trinkets in the online store. (yes its been a good year, thanks to all of you :)
the gold trinkets will retail for $135, the sterling silver ones remain $117, so at 40% off, gold trinkets will be $81 each and the sterling trinkets will be $70 each. they will arrive to you prettily packaged for the holidays. two pieces of rawhide , black and natural. cut long so you can tie the rawhide at any length.
delivered in one of my silver, gold or black organza pouches.
super simple, super sexy, super grateful.
the discount code will be good until December 15, but when the gold trinkets are gone, they're gone for delivery this holiday. (if you really like them, I will add them permanently to the line next year.)
get yours early
now if you know you want one (or more, for great holiday gifts!), you can email me now to reserve yours and I will get back to you and handle your purchase personally. new subscribers will get the code, so tell your friends who love your pendant to sign up here, this is their chance to get the best deal I can do outside of morning television ;)
as always thank you for your support of me and my work, and have a fantastic holiday with your families this weekend!
more soon,
heather