hand forged sterling silver baby bracelets
this past week, i fitted two baby girls with their first ever, custom made bracelets. absolutely scrumptious, chubby little wrists, eying me suspiciously, but how their eyes lit up when they realized this lovely band of silver was for them!
i am convinced the magpie gene is in all of us. what baby doesn't love something shiny, heavy and cool, that is allowed in the mouth!?!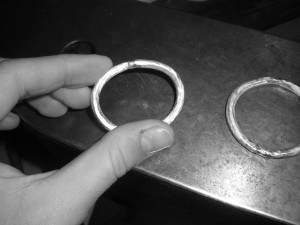 these bracelets are cuff versions of the hand forged bangles i have been making lately.

my two baby customers had their birthstones flush set onto the top of the bracelet, however i think i am going to dissuade everyone to set stones until the wearer is a bit older.
if the bracelet has no gemstone, we can size the bracelet for years to come, whereas once the stones are set, the custom fit is limited. so let us add a stone for an 8th birthday, for example.
i am really digging the simple heavy hammered pieces right now.
solid. like the 42 broccoli plants that i am growing, from seed…
one could say, a woman obsessed.
be so well
heather
baby bracelets in spring baskets!