Moving the jewelry studio- and the family- to Pittsburgh!
Yesterday we were working on the "moving specials on jewelry" page when we realized I'd made no "official" announcement about our move here on the blog or to my subscribers' list of friends and fans.
So, we're moving to Pittsburgh at the end of the month of August!
John will continue a couple of his San Diego projects both online and in person– he's got an office space he'll be keeping, and a few other things going on- follow him on Twitter to keep up with all that.
We're moving on to a big simple mid-century home in the Pt. Breeze neighborhood of Pittsburgh, just a few minutes from where my Mom grew-up and a bunch of my cousins, family friends and their kids, too. (I was actually born in Pittsburgh though I grew up mostly in CT).
There's a perfect open kitchen and big family room as well as a sweet room for the jewelry studio looking out over the backyard– another great set up for work + kids–> we are very fortunate!
So even though, my jewelry doesn't take up any space, I started a moving sale online because I have a handful of pieces that have been around for while and I've been cleaning up the bench– yesterday I found a ring that reminded me of the engagement ring I just wrote about last week, maybe from the same time period. It has a pretty green beryl set in a yellow gold bezel on a sterling silver flat bar ring, flanked by two little diamonds– check it out!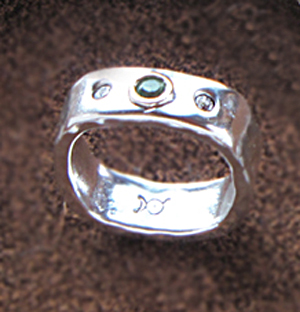 Here's a partial screenshot of the sale page, click the image to see everything.