olympic rings & other custom jewelry musings
a lot goes into designing & creating a bespoke jewelery piece; here are some general thoughts and a recent custom jewelry project by way of example.
okay so let's say we are designing a gift for your sister.
ideally, we actually connect on the phone and chat, engaging in a dialogue about your sister's style, personality, lifestyle.
a few questions to get my creative juices flowing….
is this a piece of jewellery she is going to wear everyday, or rather a "special occasion" piece?
…how much wear and tear will this piece of jewelry withstand?
i seem to make a lot of rings (always had a thing for rings) and so…
does she do a lot with her hands? a gardener, a surfer, a blacksmith?
will this be worn with other jewellery that she wears everyday already?
are we adding to this ring later on? (in the case of an engagement/wedding ring combo)?
oh wait, this is for your sister, right…sorry :)
does this gift commemorate an event, i.e the birth of a baby, a wedding anniversary? if so, can we incorporate anything symbolic in the design?
ideally, i like to listen to the answers to these questions over the phone…subtle nuances that help me to free form/brainstorm. from here i can begin to design.
ideas at first, conceptualizing the feel of the piece…
here is a good example.
dean called, wanting to custom design a piece of jewelry to celebrate the birth of their first child, due in a few days. as i listened to him just talk about his wife, i immediately saw a necklace. as a new mom she wasn't going to be fussing with jewellery, so something she can put on and not have to take off seemed appropriate.
as the mom of two little ones, i immediately saw nursing infant, ripping at shiny golden gems. note to self, sturdy chain with a pendant soothing to the touch.
dean mentioned that they had been married for some time and were excited to become a family of three. this made me think, it would be cool to represent all three of them in the piece…how about three forged yellow gold rolling rings, interlinking circles, attached to a sturdy gold snake chain.
dean wanted to incorporate his son's birthstones. i want to incorporate stones to represent him and his wife as well. i see these interlocking rings in my mind, "sort of like the olympic rings" and he says, "perfect!" dean is involved with the u.s. olympic sailing team and he and emily spent a blissful time together in china during the summer olympics.
:)
i flush set one side of the center link with imperial topaz, november's birthstone, and the other side with three white diamonds, graduated size to represent him, her and bambino.
here is the finished piece: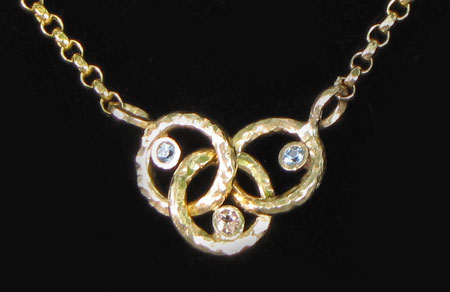 here is what she said:
"Thank you so much, Heather, for your beautiful work! I love the three rings — both their style and their meaning. The topaz and diamonds are the perfect combination, too. And the chain makes the whole thing come together beautifully."
Happy New Year,
Emily
often, someone who finds me on the web, emails…just wants a "quick quote" on a piece that has excited them. sorry, not really possible.
all of the portfolio pieces on my site were designed especially for someone. a unique piece of jewellery is going to have as many custom variables as the person for whom it is being designed.
pretty fun process
be so well
heather