platinum wedding band, 18k yellow gold miracle accent
do not try this at home….unless of course you absolutely love stressing about really expensive precious metals…melting and contaminating each other… ruthless.
this platinum wedding band with 18k yellow gold was the final piece in a client's wedding ensemble.  i had already created her engagement ring and her wedding band.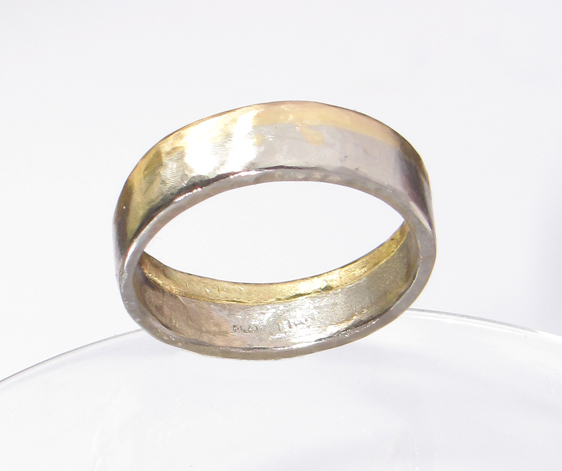 and while forging his wedding band, was finishing a handmade chain with all the colors of 18k gold and diamonds in platinum.
so this ring was not the thing to, mess up, shall we say….
apparently, i did not think this all through when kris came to me with his wedding band design.  while i love mixing gold and platinum, do it all the time, i have never been quite so ambitious in my endeavors to join such a large surface area of gold to platinum.   these two metals have very different properties and when one joins them, the different temperatures at which these metals become liquid, (read, MELT!!!), combined with the radically different tensile strengths of gold and platinum make joining the metals extraordinarily difficult. top it off with the only drawback to working with platinum, it's susceptibility to contamination from other metals at temperature…
oy
let me put it this way.  in conversation with three different jewellers, each one said they would have turned the job away.  well now they know where to turn… smile
i had forged the whole platinum band, made the gold band to fit perfectly next to the plat, and proceeded to join the gold to the platinum with solder.   proceeded being the wrong word…
in a flash, the gold covered the platinum (like a cheap suit) and the platinum took on the appearance of a clinker, in the bottom of your coal fire.  sorta like a heavy piece of lava rock.
lovely…
without boring you with the rest of the details, let it suffice to say that after lighting a candle, shedding a few tears, lighting another candle and saying a hail mary for good measure, i somehow managed to save the whole ring and weld the gold to the platinum.
i have always had a knack for "forge welding" and in desperation, i treated the gold and platinum just as i would treat steel. i hammered the gold onto the platinum before i even let it cool.  and no, it did not stress fracture!
the reason i write about this experience is because it literally is what keeps my craft so invigorating…best way to learn, the big challenging jobs that defy traditional smithing techniques.
this photo shows the inside of the band, i opted not to mess with it, keeps me humble…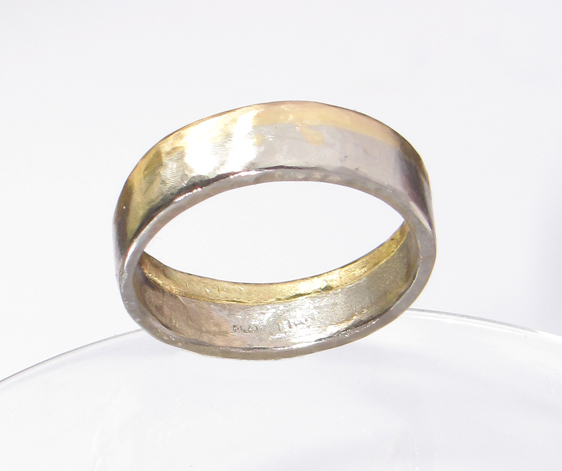 and at the end of the day, fire transforms and lives are joined.
be so well,
heather