hurricanes and holidays
there is nothing like 8″ of nor'easter snow to make you think about the holidays, and nothing like a massively destructive hurricane to make you grateful for everything you have in life, especially heat, running water and power!!!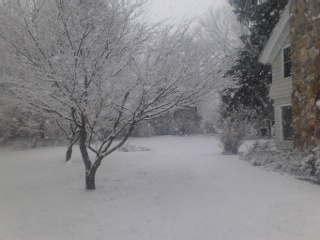 while thousands around us lost absolutely everything, we are extremely grateful to have fared really very well.
we didn't get any work done for a good two weeks…my jewellery studio was cold, powerless and had a bunch of big huge pine branches blocking it's entrance. getting back to work was just about the last thing on my mind as I struggled to maintain a sense of calm for the sake of my wee ones who missed an entire week of school… it would seem that to me 'calm' means food. so i cooked our way through the storm (thank heavens for gas stoves).
so this year, my holidays are going to be really stream lined. simpler. less stuff! everyone will get a gift of something they need (yes, socks do count!) and a gift that expresses how much they mean to me. something small, something sentimental, something that brings joy and expresses my love.
it is at this time of year that I traditionally offer one really amazing deal to all of my loyal friends and fans.
those of you who have stood by me, championing my work and supporting my latest endeavors deserve to be thanked, properly with an incredible bargain!
I have a great special for you this year, one that so many of you have asked me for, but as you can guess, I need a few more days to get it together…. stay tuned!