finally, the ribbon pendant
ahhh, the ribbon pendant.
I have been procrastinating and not writing this post, because i get emotional and then don't write well at all.
earlier this year, I forged a very special commission: a survivor ribbon for one who is battling breast cancer, from her husband, a gift of love, a pretty, sparkly, solid ribbon of hope & camaraderie, a ribbon that says…I stand with you, I support you.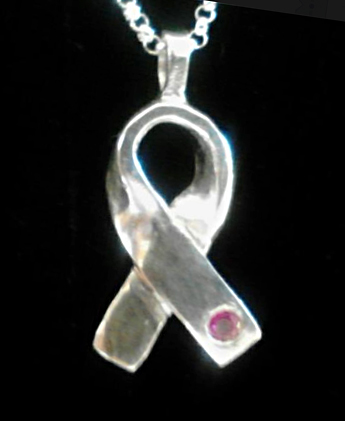 tender spots were hit as i forged this ribbon.
(scroll down for a better picture but without the stone)
it was quite the process, creating this piece for a most passionate husband.
I hammered in a stone for her, pink for breast cancer, and imagined forging ribbons in a myriad of colors ~ we all have our causes, after all.
of course, i am a cancer survivor myself, six years clear and counting. colon cancer, diagnosed 6/6/06, removed a week later, and forever clear… I believe blue is the color most associated with colon cancer. i see tanzanite in a platinum ribbon for me. now there's a smile.
I milled my stock out of sterling ingot and created my version of 'ribbon'. quickly it became apparent that the silver was not going to gracefully bend into a beautiful bow shape, as silk ribbon would. a turning point was needed, I needed a pivot around which I could hammer and forge, a strong pivotal point. I needed a fulcrum.
… and i LOVE fulcrums.
a pivotal point, the point upon which something turns, that is what a fulcrum is. when blacksmithing, you almost always create a fulcrum for your job. I will forge an original curve and then weld it onto a steel table. when ready to turn my steel, I forge around my fulcrum and have perfect curves every time.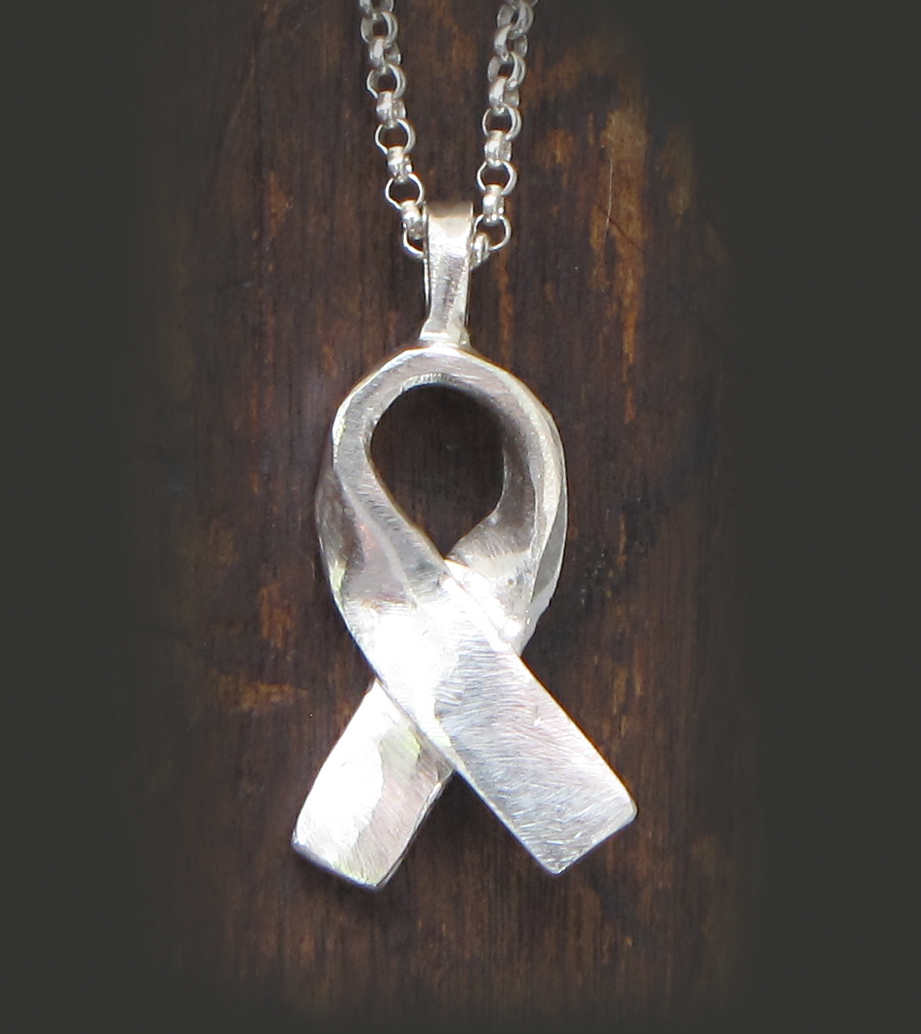 when you're battling cancer, you need a turning point. the point at which you realize that you are going to be okay. whatever the outcome, you will survive…
my fulcrum came to me post opt, through the morphine haze I heard what the surgeon said after removing the tumor from my colon. I listened to him talk about what the cancer looked like, what everything else looked like, and I turned a corner. I realized that I was going to survive, whatever that meant, I was going to be okay.
everyone who has every had a disease, been abused or forgotten, needs a turning point in their journey. they need to know that they will survive. live or die, they are powerful and they will survive.
believe that all is well, be strong and believe. for someone else, for yourself, for all of those who will someday battle. show support, give support.
so even now as I write, my throat swells, my eyes well, and it is why it has taken so long to share my little ribbon in anything but pictures, but finally I am so ready to really get these ribbons out there and forge right through the tears into the sparkly happy bits of life…