Sue's circle of diamonds
its a beautiful sunny fall day and we're headed to the park, but i wanted to get this new piece of custom jewelry inspired by my LifeChain project published here because Sue just received on Friday after Thanksgiving and loves it!
its a great illustration of new ways to think about old jewelry.
i'd already written these notes about it, too, so now with a picture, here it is:
languishing in a jewelry box no longer!
from a marriage long dissolved,
the wedding ring made anew through hammer and fire.
Sue sent me her 14k white gold, standard comfort fit wedding band and told me to "hammer all the bad energy out of this wedding ring" and create a circular pendant.
i used a heavy torch on the gold, and hammered it hard into a new kind of circle.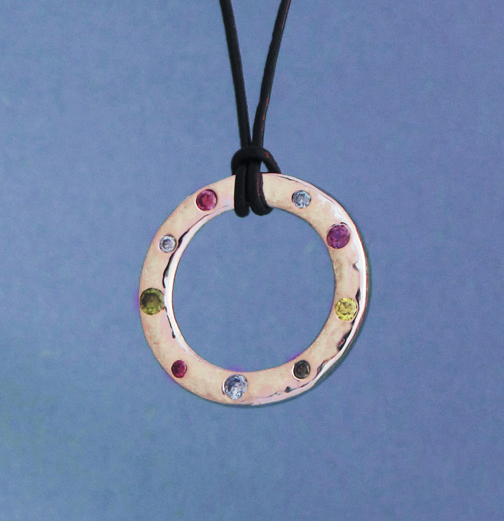 we decided upon 9 diamonds in varying shades of blue, green and purple…nothing too saturated in color, pastel hues, ocean hues…
from a parcel of over 100 diamonds, i selected these nine diamonds….this took the longest time and i am really pleased with the palette.
when i was all done, the piece was rhodium plated.
a strip of black rawhide looped through the circle (a 14k white gold lobster clasp will be affixed to the rawhide once she wears the pendant for a few weeks and determines the exact length at which she would like the pendant to hang).
i think this is a really sexy, really powerful symbol of rebirth, growth and ultimately an expression of self.
what do you think?