the first zodiac sign!
its finally time for the zodiac signs!
the pot of gold idea i wrote about last time is a recent idea that will serve for a long time, i think, but i'm probably more excited right now about the zodiac symbols, handforged sterling silver pendants in the style of my peace pendants or ohm pendants.
my zodiac signs are the other way around: an old idea I've really wanted to do for a long time, just recently getting an opportunity to come to fruition, starting with this custom leo pendant. this is one of my most successful jobs ever, because i got it just right for a very thoughtful client.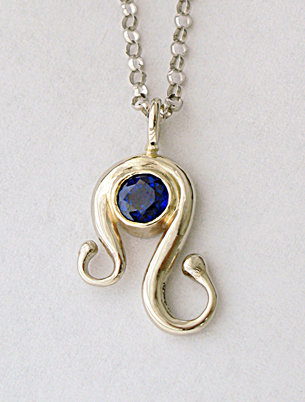 this note form Mark shows exactly why this was such a successful project for me, because my work for him was such a perfect gift for her.
Hi Heather,

I just want to let you know that I received – and love – the Leo pendant…. Thanks, also, for the personal note that you included….

… turning 21 is a big milestone for us. I wanted to mark it with something special and nothing off-the-shelf would've adequately expressed the occasion.

Thank you for forging my feelings into something that will mark and enrich us for the years ahead.

Warmest regards and best wishes,
Mark Morgan
i've always been moved by this piece and this testimonial, and as a true to form aquarius, have wanted to share it with everyone else.