The Howard Stern Show
so this past monday, i take the early early train into the city to go pick up our second rescue kitten from my dear friend, beth ostrosky stern. beth wanted me to get our kitten asap (so as not to miss out on her incredible little baby-ness) and meeting her at sirius radio station around the end of howard's show made the most sense for our schedules.
now mind you, cold rainy monday morning, leave house at 5 am… wearing jeans and t-shirt…going to pick up a kitten. there was no mention of cameras, no mention of interviews, and certainly no mention of BEING ON THE AIR, live radio…
at least i had lip gloss in my bag, because well you know, you have to look good on radio :)…
but seriously, my impromptu radio spot aside, after the show I had the most special, very emotional moment with howard's lovely co host, robin quivers. just back in the studio after a year plus long battle with cancer, I forged her one of my ribbon pendants and had the opportunity to give it to her after the show. as a seven year cancer survivor myself, this was, shall we say… emotional?
uh yes. and beautiful. there is a connection that survivors have that is beyond words.
and..robin wears one of my diamond gold wishbones that beth and howard gave her two xmas' ago…and she happened to be wearing it monday morning. this made me so happy. here is the pic of robin holding our new little baby, sweet pea (aka selena beth).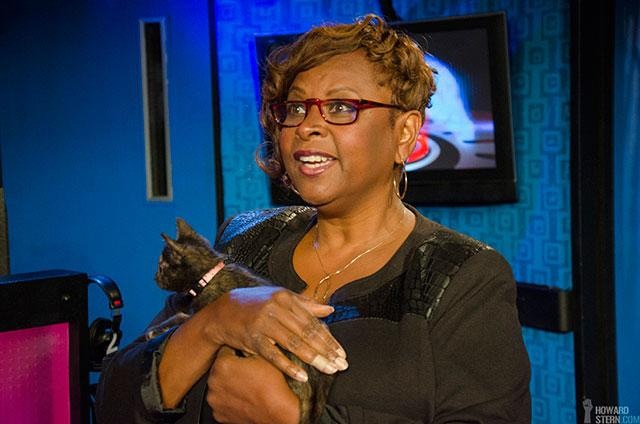 robin is also wearing her diamond gold wishbone on the cover of her newly released book, "the vegucation of robin".
so needless to say, I am a very happy, very grateful mom, with two more mouths to feed and a full and happy heart.
oh and the part about being on the radio?
while chatting with beth in the green room, i hear howard on the air yelling "hey is heather still here? she doesn't have television, get heather in here!" so in I go to discuss the pros and cons of television. with howard and robin. on the air.
i am still laughing :)