top holiday gifts? handmade jewelry, of course.
*scroll to the bottom for this year's special holiday shopping offer for my subscribers!*
the studio is starting to get busy with orders and questions about holiday gifts and gift ideas, so i thought i'd write quickly my holiday gift ideas for you before getting back to new custom jewelry projects and photos.
my holiday gift guides
we've re-established my online shop for my handmade jewelry: each of my handforged peace sign jewelry pieces (including the earrings!), rune symbols and wishbone necklacesthat have been my top holiday gifts in past seasons.
online payments for my shopping cart are securely handled by PayPal, where you can use any major credit or debit card as well as your PayPal account.
this year i'm pleased to add a new series of pendants in time for the holidays: the ohm pendant designed for my fellow yoga fans and practitioners.
like my other handmade jewelry, the om pendants are made one at a time on my studio and are available on different chains and lengths to order. my current favorite combo is the 22 karat gold om pendant on rawhide, a nice juxtaposition of purity, luxury and simplicty.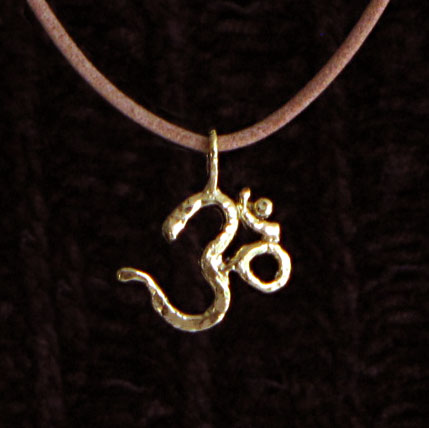 in time for christmas?
always!
one of the reasons i recommend the pendants is that they are simple enough to finish and ship quickly, even at the last minute. I usually ship for the holidays up until December 15 or so by my usual means, USPS priority mail with insurance and tracking.
doing any holiday specials this year?
yes!
every year i do a special holiday discount offer for memail subscribers, and this year i'm extending it to my Facebook Fans as well.
this year, its called Gold Friday:  you can save from $60 to $260 on all gold jewelry in my online shop this Thanksgiving weekend only.
so join me on my Facebook page for handforged custom jewelry or sign up for my list below before midnight on Thanksgiving, and I'll email you the special code along with all of my longtime clients, friends and fans first thing on Gold Friday morning! (screw Black Friday– there, I said it.)