What's my Dodo
I am completely in love with a line of Italian jewelry and I simply must share with you.
Dodo is a line of animal pendants from the esteemed Milanese jewelry house, Pomellato. Named for the funny, furry bird, made extinct thanks to the Dutch settlers on Mauritius years ago, Dodo is a whimsical line of pendants and charms (with some ever so affordable gemstone rings) designed to speak to your inner animal.
And we all have one :)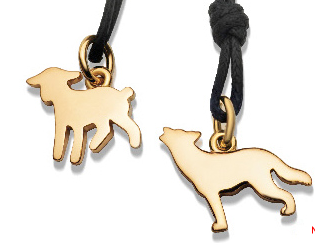 I think animals represent the purest connection to spirit, the connection we strive to reach, the connection to the earth. Animal totems speak to our archetypes and connecting with our archetypes allows us to better understand and express ourselves (yes, I have been reading Joseph Campbell again…).
Dodo has captured this essence and the result is a most whimsical, yet solid collection of pendants and charms.
As quoted from the Dodo site, "The Dodo pendants are a happy company of animals who speak the language of feelings and emotions. Each Dodo reveals a little bit of who we are and what we want to say. It's a gift that can speak for us if we are a little bit shy…"
Each Dodo comes with a little message about your animal. I love that.
And making Dodo even cooler is that they donate a portion of their sales to benefit the WWF Italia.
Seriously, how perfect is this for me?
So what animal will be my first Dodo?
The wolf. Debuting this spring (with the lamb), I knew as soon as i saw…
I have not yet decided if my wolf will be worn on their beautifully finished black rawhide, or on a hefty chain bracelet.
Either way, will look absolutely sublime with my heavy forged pieces.
Happy Spring everyone,
It really is here!
be green,
heather