wish season, wishbone special
the other night i did something illicit, and so delicious…

at the stroke of midnight with my trusty garden clippers in hand, i snuck out to the magnolia tree in the island on our street and clipped lovely large branches for a huge vase in our foyer.


and i thought, hooray for spring.

at the expense of sounding dramatic, i am overflowing with gratitude. it's warm again (somedays 84 degrees some 44 degrees…) and everything is in bloom, and our garden is begging for the rototiller!
hunter played outside all morning with friends and after fabulous dinner with more friends is finally sleeping like, well, a baby :)

and you guys, who read my musings, have been so fantastic–

with my last post, i asked and you answered, and i'm really genuinely grateful!

it seems that the overwhelming response to the question, "what piece of handmade jewellery would you like to see a special on this spring?" is, wishbone pendants!

sounds good to me. i love these little guys.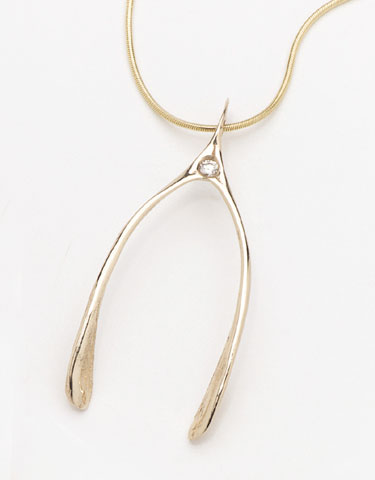 i've been making these wishbone necklaces since the day in 1998 that my dear friend robert sent me the wishbone of a cornish game hen and asked me to cast him one in sterling silver. since then i have made so many different versions, including platinum and gold, some with flush set diamonds.

it makes sense– with mother's day just around the corner (and the mother's day gift decision), what mom doesn't have wishes to make?

i was just reminded that graduations abound this time of year, too, so i'm sure many of you have multiple good reasons for your choice :).


and of course wedding time is here for many (at least i seem to be awash in wedding rings) and i've always thought wishbones make great bridesmaids gifts. weddings are all about good wishes.

so i would really like to express my gratitude for you guys, for spring, and for the magnolias with a special offer for all my facebook fans, my twitter peeps, and all of you really awesome people who have actually asked to receive my newsletter (click here to be one of these fab people).

so for all of you:

30% off all wishbones until may day!

Tomorrow, John will be sending all of you (on Facebook, Twitter and my newsletter list, anyway) a special link to my wishbone pendants (in my new online shop!) and a code for the discount. (The discount code will be good until midnight next Monday, May 2 for all you procrastinators.)

the heady fragrance of magnolia was intoxicating…i think i am to rendezvous with the lilacs tonight.

be so well and bring in the spring!

heather