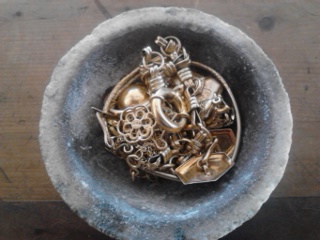 new year's and a pot of gold
happy new year! yes, I know I'm a wee late, but honestly, the new year doesn't really happen for me until the beginning of feb, after john and I celebrate our birthdays at the end of january.
this year, I am still hibernating a bit but yesterday's spring weather finally had me boxing up the new year's bells and moving forward.
been working on a favorite kind of project… the "recycle your old gold" job. making a 4-5 thousand dollar bracelet for under a grand. with the metal and stones that you just don't wear anymore!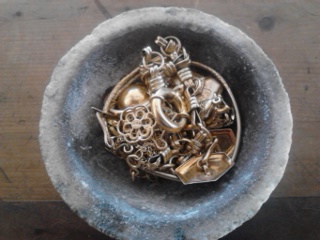 this pot o' gold will become a solid gold bangle bracelet with a lovely hand forged weight, smooth and shiny texture with only the slightest evidence of the hand forged hammer marks.
not shown in the pot of gold is a tennis bracelet of diamonds. this week, this bangle will ship to my client's daughter and she will try the bracelet on for size and then take my sharpie and dot along the bracelet where she would like me to flush set the tennis bracelet diamonds.
this will be a classic piece: mom gives daughter a bracelet forged from the gold worn by her mother, her grandmother and her aunt.
history…made economical :)