hearts…intertwining
oh, I have just made something that I am so proud of….sooo proud! one of those, "I captured exactly what I was feeling when I was forging" moments.
I present to you my little forged heart. a heart that represents intertwining, something that i seem to be doing a lot of lately.
life intertwining, all these bits of my heart intertwining together and hopefully balancing along the way.
there are two distinct halves of this forged heart as I forged each one separately. I wanted two distinct halves, just as the things in my life that I am intertwining…children, art, marriage, self (today is my 46th birthday, hence the musings)
the heart is joined only at the top, the bottom of the heart is open, ever so slightly, open…twining around the other half of the heart.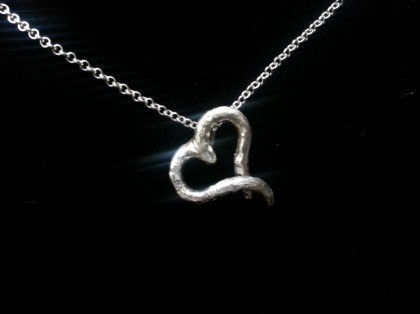 oh, and here it is. totally different than my other trinkets, this heart is three dimensional, a bit heavier and more hammer texture, but still no bigger than a dime. the jump ring on the back is a favorite for me, (I love hardware)…it took three days of pondering before I came up with this rectangular jump ring angled on the back. because of it the chains hangs exactly as I envisioned.
love when that happens
perhaps because the ultimate inspiration for this heart (on top of the many requests to forge hearts!!!) came from a really intense moment (see that last blog post about EMT guys in an icestorm ;) … perhaps that is why I feel this way about this my latest forging.
and as I am so fond of saying, I don't go to therapy because i have my hammers and anvils. every so often I create something that speaks to this most primitive connection I have to the world through forging. really grateful for that in this lifetime.
this is a heart that I really love…i am so pleased.